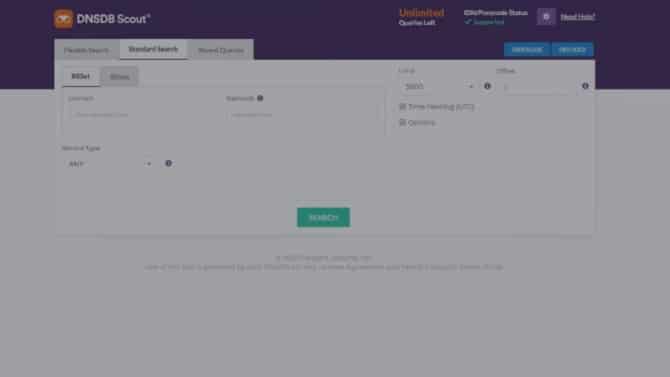 Plug into the World's Largest Passive DNS Intelligence Solution
The internet relies heavily on DNS, and criminals are not exempt. DNSDB exploits the fact that cyber criminals share and reuse resources.
DNSDB is a Passive DNS historical database that provides a unique, fact-based, multifaceted view of the configuration of the global Internet infrastructure. DNSDB leverages the richness of Farsight's Security Information Exchange (SIE) data-sharing platform and is engineered and operated by leading DNS experts. And with Flexible Search, introduced in DNSDB 2.0, analysts can apply regular expressions, making this resource even more versatile and powerful.
Eliminate DNS Blind Spots
View Internet infrastructure see how adversaries have "rolled" through related domains, IP addresses and name servers to conceal their activity.
Stop Phishing, Malware, and Ransomware Earlier
Proactively defend your organization from sophisticated cybersecurity threats.
Minimize Risk
Access real-time and historical Passive DNS data to analyze and protect against emerging campaigns based on adversary patterns of infrastructure use
DNSDB Access Methods
DNSDB API


Farsight® Security's API Key portability program lets you unlock the power of DNS intelligence across dozens of SIEM, Orchestration, Automation and Threat Intelligence Platforms that already support Farsight's DNSDB RESTful API.

FEATURES & BENEFITS

Ability to search RRname, RRdata, and by IPv4 or IPv6 address or address block
Support for whole-label left-hand-side or right-hand-side domain name wildcards
Support for IP range or CIDR prefix RRdata searches
Able to return up to a million results per query

PURCHASE OPTIONS

Purchase an annual subscription with queries / day limits
Queries / day limits from 1,000 queries per day up to Unlimited

DNSDB Export


An on-premise installation of DNSDB in your own environment or a hosted service.

FEATURES & BENEFITS

Full DNSDB Flexible Search functionality
Total query privacy
Ability to access data in an offline environment
Unlimited query volume
Minimize network latency
Fastest response time

PURCHASE OPTIONS

Purchase an annual subscription with database synchronization updates occurring monthly, daily, or every minute
---
Want to learn more?